Membership is the cornerstone of cooperatives: members own their cooperative, members control and run it, and members reap the benefits. Membership is also the basic unit of participation in the USFWC: as a grassroots member-led movement, our membership is our power and our strength.
We welcome membership from worker cooperatives, other democratic workplaces, cooperative developers, allied organizations and individual supporters. Learn more about member classes.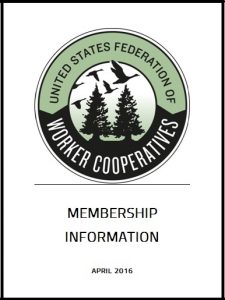 Download our
Member Information Packet

WORKPLACE & ORGANIZATION MEMBERS: 
Please complete our online membership application.
You can learn more about our member classes and our annual dues calculator.
After submitting a member application, a staffer will contact you to set a time for a new member welcome phone call. Your member class and annual dues amount will be confirmed during your welcome call.
INDIVIDUAL MEMBERS
Sustainer Member – Monthly dues contribution of $10 or more setup via autopay
Friend of the Federation – Minimum annual dues contribution of $25 via 1-time payment
Thank you for your interest in joining the USFWC!
If you have any questions, please contact Amy Johnson, Co-Executive Director,
at 415-392-7277 or membership@usworker.coop.