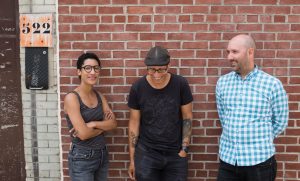 Membership is the cornerstone of cooperatives: members own their cooperative, members control and run it, and members reap the benefits. Membership is also the basic unit of participation in the USFWC: as a grassroots member-led movement, our membership is our power and our strength.
The USFWC welcomes membership from worker cooperatives, other democratic workplaces, cooperative developers, and allied organizations.
Joining as a USFWC Member is easy.
Complete our online membership application. Our Membership Director, Ana Martina Rivas, will reach out to you to arrange a one-on-one meeting to go over your application. Your member class and annual dues amount will be confirmed during your welcome call.
Wondering what your dues will be? You can use our annual dues calculator to determine dues for your organization.
If you have any questions, please contact Ana Martina, Membership Director at 415-392-7277 ext 5 or membership@usworker.coop.
Membership Classes (click on any class for more information)
Workplaces that are majority democratically owned and governed by paid workers; have been operational for at least one year; and have Board approved bylaws / operating agreement.
Votes: weigh 3; unlimited eligibility to run for board.
Dues: Total Annual Wages x 0.1% ($200 minimum)
Workplaces that are democratically managed and/or governed, but do not meet the full definition of a worker cooperative. Includes democratically managed non-profits, multi-stakeholder cooperatives with worker member class, and democratically-run 100% ESOPS.
Votes: weigh 2; board representation limited to 1/3 of seats
Dues: Total Annual Wages x 0.1% ($200 minimum)
Associations of three or more democratic workplaces joined together for purposes of mutual aid. Cross-sector cooperative associations with at least worker cooperative members are invited to join under this member class.
Votes: weigh 3; unlimited eligibility to run for board
Dues: $100 – $1000 Sliding scale determined by budget
Organizations that develop worker cooperative as part or all of their activities.
Votes: weigh 1, total cannot exceed 25% of all votes; eligible to run for maximum of developer board seats
Dues: $250 – $1,000, sliding scale based on formula of 0.1% of organization budget allocated to worker coop development
Groups in the process of creating a new worker cooperative or democratic workplace or transitioning an existing business into a worker cooperative; and worker cooperatives and democratic workplaces that have been operational for less than one year; and newly formed cooperative developers that have not yet developed an operating worker cooperative enterprise.
Votes: none
Dues: $250 flat fee per year (startup workplaces being actively supported by a Coop Developer member may join USFWC for reduced rate of $100/year)
Organizations and businesses that support, in theory and practice, the worker cooperative model and the US Federation of Worker Cooperatives
Votes: none
Dues: $100 – $1,000, sliding scale based on formula of 0.1% of organizational budget for economic, co-op, or community development
Thank you for your interest in joining the USFWC!
Are you an individual who wants to support the USFWC? Become a Sustainer!