Part Time
Applications have closed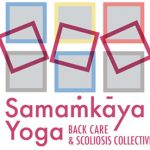 Website Samamkaya Yoga Back Care and Scoliosis Collective
Samamkaya Yoga Back Care & Scoliosis Collective, a worker-owned yoga studio specializing exclusively in therapeutic yoga for back issues and scoliosis with a faculty of 16 amazing teachers, seeks a highly-organized and dedicated self-starter to direct operations at the studio. This job is a great opportunity for an administrator who loves yoga and would like to be involved in a studio unique in its outlook and structure.
Duties include:
Answering student emails and phone calls
Balancing class sheets and weekly deposits
On-site management of public programs and special events
Designing printed and electronic materials
Administering all aspects of organization's website including content updates and design
Designing and formatting e-newsletter and other electronic communications
Managing and recruiting interns and volunteers
Helping to manage and expand social media communications and presence
Planning and coordinating programs and events for members and the general public
Managing the studio's upcoming Advanced Studies Program and Adaptive Yoga class
Samamkaya Yoga is a workers-cooperative that is actively working to help create a more sustainable and just economy and world. As a workers cooperative, Samamkaya is an equal opportunity organization that runs as a democratic community. Each worker-owner has a voice in how the company is run and the direction of the studio, as well as part ownership of the studio. As this position is a worker/owner position, it does have a monetary buy-in.
Applicant should have a Bachelor's or equivalent degree. Applicant should have experience with website management and design, electronic and printed materials design, social media, and designing communications with membership and the general public. Strong writing skills a must, as well as strong organizational skills and a proven track record of managing and completing projects in a timely fashion. Applicant must be a fast worker, able to juggle multiple tasks, meet deadlines, and maintain flexibility.
Proficiency with Microsoft Office Suite, Google Drive applications, WordPress, Square, InDesign, Photoshop and/or the ability to learn and adapt to new technology is critical. Familiarity with Quickbooks is also helpful. Approx. 20 hrs./week, with occasional weekend and evening work. Compensation is $15/hr, free yoga classes, and discounts on workshops and props.
Please contact us for an application and email a resume with cover letter to [email protected]