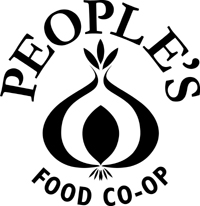 Website People's Food Co-op
A Physical Plant Manager / Collective Manager:
-maintains and develops the indoor and outdoor spaces of the co-op using sustainable building and maintenance practices, and ensures that all equipment is in good working order and that the co-op is clean and safe; and
-participates in the democratic management of the co-op as part of a 30-person collective.
People's is democratically and radically run workplace. As a collective, we manage the Co-op in service to People's Member-Owners and in-line with the goals established by their elected stewards, the Board of Directors. In addition, the Co-op and Collective are committed to fostering human rights, social and economic justice in our community and workplace.  Making a commitment to People's Co-management requires hard-work, personal growth, dedication, courage, compassion and flexibility.
32-36 hours/week are available for this position. The compensation package is: $14.75/hr to start for every position, a human scale and empowered workplace, 19% discount on purchases at the Co-op, medical and dental insurance (including access to naturopathy and acupuncture) for staff who are scheduled for 28 hours per week or more, Staff Benefits Exchange Program (reduced rate services from participating wellness practitioners & bike mechanics), paid time off, and annual raises.
This position is open until filled. You must complete an application in order to be considered for an interview. Please apply as soon as possible-the application period will close once sufficient qualified applications have been received. Also, this job positing will be removed from our front doors and our website once we are no longer accepting applications.
You may submit your application via email to hiring@peoples.coop, mail it to us at 3029 SE 21st Ave, Portland, OR 97202 or you can drop it off at the store. Feel free to include your resume and cover letter, but note that neither will be considered without a completed application packet.
We are an equitable opportunity workplace~We encourage women, people of color, gender variant and trans people, and people who speak english secondarily to apply to work here with us.  Please apply!