Part Time
Applications have closed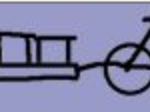 Website Pedal People
We are hiring for collective member hauling positions!
The collective member hauling positions will begin in mid-June. The job is to pick up trash, recycling and compost by bicycle, and participate in the running of the cooperative. Please read the job description below.
A link to the online application is at the bottom of this page. People of color, queer folks and women are encouraged to apply.
May 28: Deadline for applications.
May 22 to June 5: Interviews, both sit-down and on the bike.
June 6: Hiring decision.
Collective member hauling job description
People People's hauling services are primarily moving recycling, trash and compost.
Specific hauling responsibilities
riding a bicycle in Northampton, hauling a trailer with up to 300 lbs of weight; riding all year long in all weather conditions
sorting trash, recycling, and food scraps
lifting at least 30 lbs chest high
Responsibilities
using a computer at least 15 minutes per day of work
attending collective meetings once a month and participating meaningfully in the ownership of the business
Qualifications
a belief in human power as a viable option to motorized vehicles
a commitment to doing what is best for the whole collective
an ability to ride a bicycle safely and legally in traffic (additional training can be provided as needed)
enjoyment of physical labor
easy to get ahold of via phone, email, or in person
reliable, initiative-taking, invested in the business
able to work independently as well as in a group
open to giving and receiving constructive criticism
Compensation & hours
Part-time: 5 to 10 hours/week to start, eventually working up to as many hours as you want as work becomes available.
Most pay is by the job, and works out to between $15 to $20 per hour, depending on your speed. Most work can be done independently and at your own pace, with some flexibility in the hours.
We're looking for someone able to make at least a one-year commitment.
Pluses in an applicant
ability to maintain and fix bicycles and equipment
accounting skills, computer programming skills, marketing skills
an interest in expanding the business
secretarial and public relations skills, ability to return phone calls and emails and communicate with customers and the general public
living in or near Northampton/Florence – most work shifts and meetings are only 1-4 hours long, and some are available spur of the moment, so living close makes it more economical to participate in the collective
Worker's cooperative
Pedal People is owned and run by its workers. New workers go through a 9-month apprenticeship period. For hauling workers, this must include 3 months of winter. After that, if all of the current full members agree, you'll become a full voting member of the cooperative. We use a consensus process to make decisions.
There are many opportunities to develop other aspects of a human-powered business (yard care, moving jobs, deliveries).
All workers must invest $100 in the cooperative, which can be paid in installments, which will be returned upon leaving.
Application
The preferred method is to apply online. Details on this and other options for applying are here:
Apply online
Questions? E-mail hiring AT pedalpeople DOT coop or call us at 413-586-8591.