Part Time
Applications have closed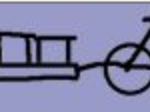 Website Pedal People
We are hiring for substitute hauling positions!
The collective member hauling positions will begin in mid-June. The job is to pick up trash, recycling and compost by bicycle, and participate in the running of the cooperative. Please read the job description below.
The substitute hauler positions will begin in mid-June. A Pedal People sub fills in for Pedal People when we are unable to cover the job. The sub will pick up trash, recycling, and compost by bicycle. Sometimes subs are called in advance of the work date, and sometimes they are called on short notice when work becomes available. Please read the job description below.
A link to the online application is at the bottom of this page. People of color, queer folks and women are encouraged to apply.
May 28: Deadline for applications.
May 22 to June 5: Interviews, both sit-down and on the bike.
Substitute hauling job description
To substitute for workers providing People People's hauling services, which are primarily moving recycling, trash and compost. This is not a member-track position, but subs will be considered for these positions when they become available.
Subbing responsibilities
Riding a bicycle in Northampton, hauling a trailer with up to 300 lbs of weight; riding all year long in all weather conditions
Sorting trash, recycling, and food scraps
Lifting at least 30 lbs chest high
Subbing qualifications
Reachable by computer and by phone on short notice for last-minute substitute work
Flexible availability
Ability to work independently and follow detailed instructions
Access to a computer to write a brief job report after work is completed
Enjoyment of physical labor
Ability to ride a bicycle safely and legally in traffic (additional training can be provided as needed)
A belief in human and bicycle power
Open to giving and receiving feedback
Subbing compensation and hours
Subs are paid $15/hr with potential for more if work is done efficiently
Most shifts are 3-6 hours long
Unpredictable frequency of work – subs may work several times a week or not work for several weeks
Notes
All trailers and related equipment are provided. Most people use their own bicycles and are responsible for their own maintenance.
Pedal People does not discriminate on the basis of race, color, religion, creed, sex, age, marital status, national origin, veteran status, or sexual orientation. No CORI checks.
Affirmative action: If Pedal People has two or more equally qualified candidates for a position, preference will be given to people of color, queer folks and women.
Application
The preferred method is to apply online. Details on this and other options for applying are here:
Apply online
Questions? E-mail hiring AT pedalpeople DOT coop or call us at 413-586-8591.
June 6: Hiring decision.