Full Time
Applications have closed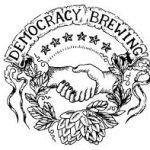 Website Democracybrewng Democracy Brewing
Are you an experienced food and hospitality professional, hungry for employment somewhere progressive and exciting?
Are you passionate about craft beer and delicious food, driven, and qualified to be part of the management team of an exciting new 150 seat brew-pub?
If answers are yes to both, get in touch with us today and apply for a job with Democracy Brewing, a worker-owned brewery opening in April 2018 at 29-35 Temple Place in Downtown Crossing.  We are currently seeking qualified Sous Chefs, an Assistant FOH Manager, and an Events Manager to join us as a key part of our team, from planning to opening and beyond.
Our mission at Democracy Brewing is to recreate the traditional public house, brew the best beer in Boston, and pair it with delicious food, all in combination with two great American ideals: democracy, and owning your own business.  As a member of our opening team, you will be assisting us in creating an excellent work environment for our employees. After a year of full time employment, you will be eligible for your own ownership share, becoming an equal partner in a democratic workplace.
Assistant Manager
As an Assistant Manager, you will assist the FOH Manager in management of all FOH staff, including daily shift leadership and hands-on assistance during lunch and dinner services.  Number one priority will be assisting in the hiring and training of an excellent FOH staff in preparation for opening.  Ongoing responsibilities include: interviewing, hiring, training, scheduling, and supervising the staff, with a goal of striving for and maintaining low employee turnover and excellent service and hospitality.  We are looking for a team player manager, one who is willing to jump in, lead by example, and assist the FOH staff and upper management in any way needed.  We believe in the staff-first, trickle-down model of hospitality: train and treat your staff well, empower them, and they in turn will make guests happy.
Minimum Requirements:
6+ years of full time Foodservice/Hospitality Industry experience
2+ years of FOH management experience
Extra consideration will be given to applicants who are bilingual and applicants with experience with worker cooperative businesses.
Please send your Assistant Manager/Events Manager applications to [email protected]  We are accepting applications for most other FOH and BOH positions which will be staffed closer to opening.  Thanks!