Full Time
Applications have closed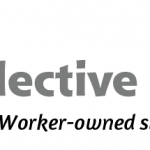 Website CollectiveCopie Collective Copies
We're a worker-owned collective and union shop—we all do the work, we all make the decisions, we all benefit from doing those things well.
We're locally owned, not part of a park-paving, pocket-padding, power-pandering corporate chain.
We donate 10% of our profits each year in response to requests from student/youth groups, organizations and individuals. Our giving favors human rights, creative expression and living things.
We only use recycled paper and we offer a selection of tree-free alternatives like 100% pcw and sugarcane.
Collective Copies, Inc. is searching for 2 – 3 full time members who are experienced in graphic design (InDesign, Photoshop experience would be a big plus), digital printing, finishing, etc. While these attributes are important, they are not a must. The important things are that the person be ultra friendly in a customer service environment, willing to work hard, have an open mind, be teachable, and want to grow a thriving business
Candidates must be familiar with the graphic design/digital printing world, willing to work full time and be
available Saturdays. If you or someone you know are interested, please
email amherst@collectivecopies.coop with resume and cover letter.