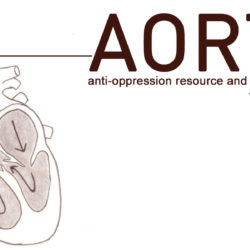 Website AORTA | Anti-Oppression Resource and Training Alliance
AORTA is a worker-owned cooperative devoted to strengthening mov
AORTA is a worker-owned cooperative devoted to strengthening movements for social justice and a solidarity economy. We work as consultants and facilitators to expand the capacity of cooperative, collective, and community-based projects through education, training, and planning.
AORTA seeks a talented person to join our expanding worker-owned cooperative to help with HR and administration.  The ideal candidate will have skill and experience with human-centered, emotionally intelligent HR practices (thus the titleHumane Resources coordinator) and be capable of efficiently balancing a variety of administrative demands. This is a worker-owner position – candidate would be considered to become a worker-owner after a year of candidacy, and would be expected to participate in democratic management of our collective business.
This is a half-time position (20 hours per week) based remotely. We prefer the person or persons we hire to be located in NY, PA, MA, VT, NC, LA, MN, CA, and OR, but we are open to other locations in the U.S.
Click here to read the full job announcement, which includes more about AORTA, desired skills, and benefits information.
JOB DESCRIPTION
Human Resources
Maintain, update, and implement worker handbook policies.
Administer benefits (health, dental, childcare flexible spending account, retirement account, etc).
Create contracts with new hires & independent contractors.
Maintain employment paperwork & personnel files.
Proactively ensure that professional development goals for group & individuals are met.
Ensure that members of AORTA update goals (annually), job descriptions, and work plans (quarterly).
Administer & assess peer-accountability system (we call these prefects).
Coordinate & periodically assess/update peer evaluations processes.
Coordinate onboarding process for new hires & re-integration process for anyone returning from an extended period of absence.
Liaise with external coaching team (coaches provide emotional support to members of AORTA).
Ensure compliance with federal & state labor laws.
Team Coordination
Coordinate work assignment entry into Harvest Forecast and provide support to team to predict capacity and availability.
Gather information and create quarterly progress reports.
Coordinate internal business meetings and facilitator calls.
Administration
Provide administrative support to project coordinators on long-term team projects.
Coordinate development & logistics for public trainings, webinars, and convenings.
Co-coordinate logistics for annual retreat.
Occasionally book travel, lodging or provide other logistical support for team projects.
Maintain & update operations manual to reflect administrative protocol.
Maintain technology, equipment, supplies, and data security needs for our co-op.
Maintain contact database (Mailchimp).
Other duties as assigned.
Co-op Duties
Participate in business meetings (every two weeks), email discussions, retreats, and other special meetings.
Participate in internal HR team and one other internal team to advance a specific area of business operations (current teams, called hubs, oversee Operations, HR, Structure & Strategy, and Communications & Movement-Building).
Uphold AORTA's policies, decisions, and all expectations (Points of Unity, Community Agreements, and other protocol).
Seek political and professional development in alignment with AORTA's values and position duties.
MORE INFO
This position starts at 20 hours per week; position has potential for eventually expanding administrative functions and increasing hours depending on your capacity and organizational need.Our starting salary is $25,700 – $33,000/year (Full Time Equivalent salary @ 35 hours per week is $45,000 – $58,000/year). Salary is determined based upon the cost of living in your city, number of dependents, and prior experience. Workers receive a $2,500 raise upon becoming a worker-owner, and a $500 raise each following year.
People of color, trans and gender nonconforming people, people from poor and working class backgrounds, queer people, and women are encouraged to apply.
Click here to read the full job announcement, which includes more about AORTA, desired skills, and benefits information.