Full Time
Applications have closed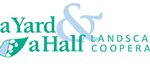 Website A Yard and a Half
The Human Resources-Administration Manager is a dual-role involving full spectrum human resources and office management responsibilities. If you have excellent human resources skills, great people skills, can manage multiple tasks, and enjoy continually improving processes, we would like to speak with you. In this role, you will be responsible for performing HR-related duties on a professional level in the following HR functional areas: benefits administration, employee relations, performance management, onboarding, policy development and implementation, recruitment / hiring, and employment law compliance. The Office Manager component of this position is responsible for coordinating all office activities, purchasing requests, data reporting, and managing the physical space of the office. As a member of our People Management Team, the Human Resources-Administration Manager should be highly knowledgeable, professional, and bring enthusiasm and new ideas to the workplace.
HR
●  Maintain company structure by updating job requirements, job descriptions, and organizational chart for all positions.
●  Establish and maintain a recruiting, interviewing and onboarding program; conduct and analyze exit interviews; recommend changes.
●  Prepare employees by establishing and conducting orientation and training programs.
●  Support managers/crew leaders in carrying out evaluation process for all positions.
●  Maintain HR files and track employee information including requests for time off, status
changes, performance management, accident reporting, unemployment, and I-9s.
●  Conduct periodic compensation studies.
●  Evaluate and develop benefits package, including PTO, health insurance, family medical
leave, etc.
●  Maintain and update employee handbook to ensure legal compliance.
●  Review and update health and safety policy and SDS; work with Field Operations
Manager to ensure consistent implementation.
●  Conduct training on administration/enforcement of HR and health & safety policies for
staff and managers.
●  Foster leadership development and employee-ownership culture through day-to-day
interactions, education, and social activities.
●  Establish professional development needs for staff; promote professional development
opportunities; manage continuing education requirements for certifications.
●  Coordinate and facilitate organizational development and team development activities as
necessary.
1 of 2
Office Administration
●  Drive timely collection and accurate completion of all administrative documents required of office and field staff.
●  Coordinate office/administrative tasks and provide administrative support to CEOs
●  Process new customer contracts, deposits, and receivables.
●  Update and maintain file system for customers, vendors, equipment, etc.
●  Work closely with management team and bookkeeper to recommend, develop, and roll
out more efficient and accurate administrative and job tracking systems, leveraging
integration of QuickBooks and LMN software
●  Manage relationships with financial services, creditors, and service providers, including
IT, accounting, and legal services.
●  Assist Spanish and English-speaking employees in accessing payroll, benefit
information, and timekeeping software.
●  Manage administrative and overhead costs to budget
●  Gather, analyze and interpret external and internal data and present reports to CEOs
and Board
●  Support the CEOs in creating, maintaining, supervising and reviewing the budgetary
process and financial health of the organization.
Requirements
●  Proven experience in office administration and/or human resources
●  Familiarity with financial and office management principles
●  Comfort with operation of office equipment, GSuite, and CRM software, with ability to
easily adopt new software and integrations
●  An analytical mind with problem-solving skills
●  Excellent organizational and multitasking abilities
●  Outstanding communication and interpersonal abilities
●  Ability to exercise discretion, manage sensitive situations, and maintain confidentiality
●  Proficiency in both oral and written Spanish and English
●  SHRM-CP or Bachelor's degree in business/HR management preferred