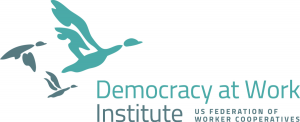 Partner Event:
The Legacy Business Initiative has been a partnership between the Democracy at Work Institute, the National Urban League, and others, that has sought to understand the potential to preserve small business ownership and increase wealth in communities of color through employee ownership. The project combined statistical research, surveys, focus groups, and stakeholder discussions in six U.S. cities, and found a mix of favorable and challenging conditions to implementing the concept at scale. However, given the enormous number of retiring owners, the enthusiasm for keeping businesses within communities across generations, and the presence of strong potential partner organizations, the research suggests that employee ownership could be a viable option for owners of color.
Presenters
Shevanthi Daniel, Democracy at Work Institute, Director of Cooperative Conversions
Shevanthi's work spans over fifteen years in community and labor organizing, and strategic capacity building with nonprofit and small businesses. She previously served as Lead Manager of Worker Cooperative Initiative at Pinchot University – Center for Inclusive Entrepreneurship, and also helped develop a Cooperative Management Certificate program at Pinchot University.
Tim Palmer, Democracy at Work Institute, Director of Research
Tim oversees foundational and strategic research to inform the field. Prior to joining the Democracy at Work Institute, he spent ten years conducting strategic, economic and policy research in the healthcare sector for the Service Employees International Union. He holds a Master's degree in US labor history and was a volunteer activist in his graduate assistants' union while working at the University of Florida.
—
The Cooperative Conversions Webinar Series
The Democracy at Work Institute is hosting a series of one-hour webinars from practitioners making advances in the conversion of business to cooperative or employee ownership. Each webinar will focus on lessons learned from work in the field, and help business advisors, economic developers, and conversion guides support businesses to sell to their employees. DAWI is a member of the Workers to Owners Collaborative, working to make it possible for small businesses across the United States to become employee owned and get best outcome for business owners, workers, and the places the business are located in.